An EICR (Electrical installation condition report) is an electrical inspection of a property. An electrician conducts electrical tests with his/her calibrated test meter and records the readings on a certificate called an EICR form.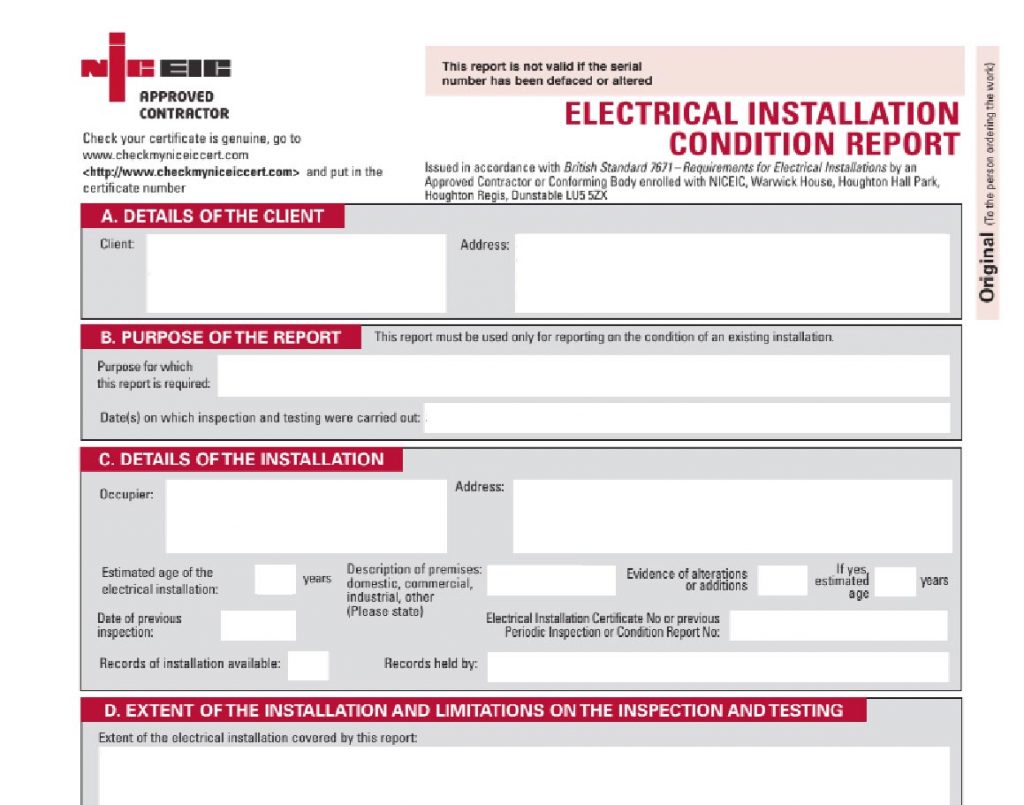 There are multiple tests on each circuit the electrician needs to know and these are done when the circuit is on and off. When testing a circuit properly it is a time consuming process so most electricians dedicate a day to doing a thorough EICR.
In a nutshell the test results obtained dictate the quality of the installed cabling in the property, anything less than 1 meg ohm on insulation resistance on older wiring (60s&70s) can mean bad news and a potential rewire. The below slideshow I call the "Rewire Warning Slideshow." This is because all the pictures are of old cabling and accessories and all give warning signs a rewire is needed.
Along side the actual tests per circuit the electrician has to do, they also go around each room and check the accessories which are installed. These are light switches, lights, sockets, not appliances plugged in as that is a portable appliance test (PAT Test) and a different test altogether.
Why does the electrician look at the accessories in the house ?
This is to make sure there is no physical damage to switches, sockets, light fittings. The last thing you want if you're a landlord or home owner is a tenant or loved one getting an electric shock from a cracked or damaged socket outlet. This is why electricians visually inspect the accessories and report any defects on the EICR form.
New Landlord Government legislation 2020
What are the Electrical Safety Standard requirements in the Private Rented Sector (England) Regulations 2020, and why do we have to have them?
The majority of landlords are proactive when it comes to ensuring the safety of their tenants and make a welcome contribution to the housing market. However, some fail to do so, putting their tenants in danger as a result.
The new regulations require landlords to have the electrical installations in their properties inspected and tested by a person who is qualified and competent, at least every 5 years. Landlords must provide a copy of the electrical safety report to their tenants, and to their local authority / letting agent if requested.
This means that all landlords now have to do what good landlords already do. That is to make sure the electrical installations in their rented properties are safe.
The regulations came into force on 1 June 2020 and form part of the departments wider work to improve safety in all residential premises and particularly in the private rented sector.
This is a major step towards leveling up the private rented sector, making sure it will offer high-quality, safe and secure housing. Along with our social and owner-occupied sectors, this is housing this country deserves.
This government values the contribution made by good landlords. The majority of whom provide well maintained, safe, secure and high-quality places to live, work and raise a family.